Weekend
Sunday was laundry day. Monday I had off, one last day before I had to go back to work. I decided to go to Coney Island.
Coney Island lies along the edge of Brooklyn. Take the D, F, N or Q down to Stillwell Ave. I took the Q, and walked around.
I wandered around the amusement park, up and down the boardwalk, over to the aquarium (but the line was too long), and then back. You remember my quest for Slurpees? Well, you can get a frozen Coke there. For $4. Ow. But I did.
It was a nice visit, but I'm not really one for amusement parks nor for miniature golfing alone. So I went home.
Later, I went over to the east side for the fireworks. It was happening along the East River, so I took the L down 14th St, to FDR drive. Grr! FDR drive is elevated, and was blocking my sight. So I wandered up to 23rd with no luck, but couldn't go any further. At that point the fireworks started.
I tried to take some pictures. First, turn the camera to landscape mode, locking focus on infinity. Then turn exposure compensation way down, so that the fireworks didn't entirely overexpose every frame. And then you have the problem that you can't really frame anything. But some turned out OK.
After it was all over, I headed to the 6 line on 23rd St. I hit it at Park Ave. But my eyes caught a surprise sight: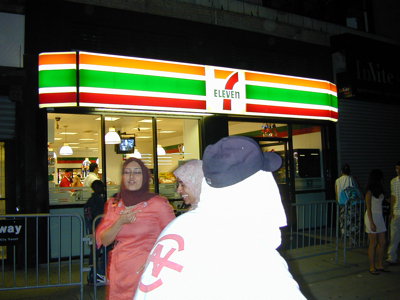 Whoa! So I went inside. Everything was shiny and new. I drew a Slurpee, my usual half-cherry, half-Coke, and went to the counter. "Did you just open?" "Yes," the clerk said, "last Friday." I was in shock. There's a 7-Eleven in Manhattan. Whoo!