Avi's NetTacToe v1.0
About it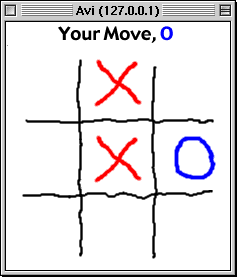 Avi's NetTacToe is a program for the Mac that allows you to connect to and play a game of TicTacToe with another Avi's NetTacToe user.
While that may not be so exciting, Avi's NetTacToe comes with complete source code, to show you how to use PowerPlant to write simple games like this one. Interesting points are:
TCP/IP using PowerPlant's networking classes
Multiple threads using PowerPlant's thread classes
Preference handling (can you guess how?)
What's New?
Version 1.0 (16 March 1999)
Initial release
Download it
Avi's NetTacToe is currently available for download as a StuffIt archive. Go to the Aladdin Systems web site for an extractor for StuffIt achives.
Download Avi's NetTacToe (161K) from Pittsburgh.
Download source (128K) from Pittsburgh.
View the Read Me file online.

---
Back to Avi's Mac Stuff
---
.

Last modified: Tue, Mar 9, 2004 at 12:02:03 AM